From Retention Pond to Community Hub
Originally slated to be a retention pond surrounded by a chain-link fence, this unique, historic event venue was the result of a 15-year effort led by activist and Riverside Avondale Preservation founder, Dr. Wayne Wood. His vision was to capture this riverfront setting as a public, communal marketplace, and we like to think he's proud of the market as it stands today. The award-winning design of the market, which features pedestrian pathways, landscaping and picturesque lighting, was created by landscape architect Melody Bishop. The area is a City Park named Northbank Riverwalk Artist Square.
On non-market days, the RAM site is utilized as Black Knight Financial's parking lot. Throughout the week, the Riverfront Amphitheater is widely used as a public park, commonly known as Northbank Riverwalk Artists' Square, which forms the terminus for the Northbank Riverwalk. The Riverside Arts Market is a great example of public and private partnership with funding for its extensive infrastructure obtained from FDOT, the City of Jacksonville, JEA, JTA and Fidelity National.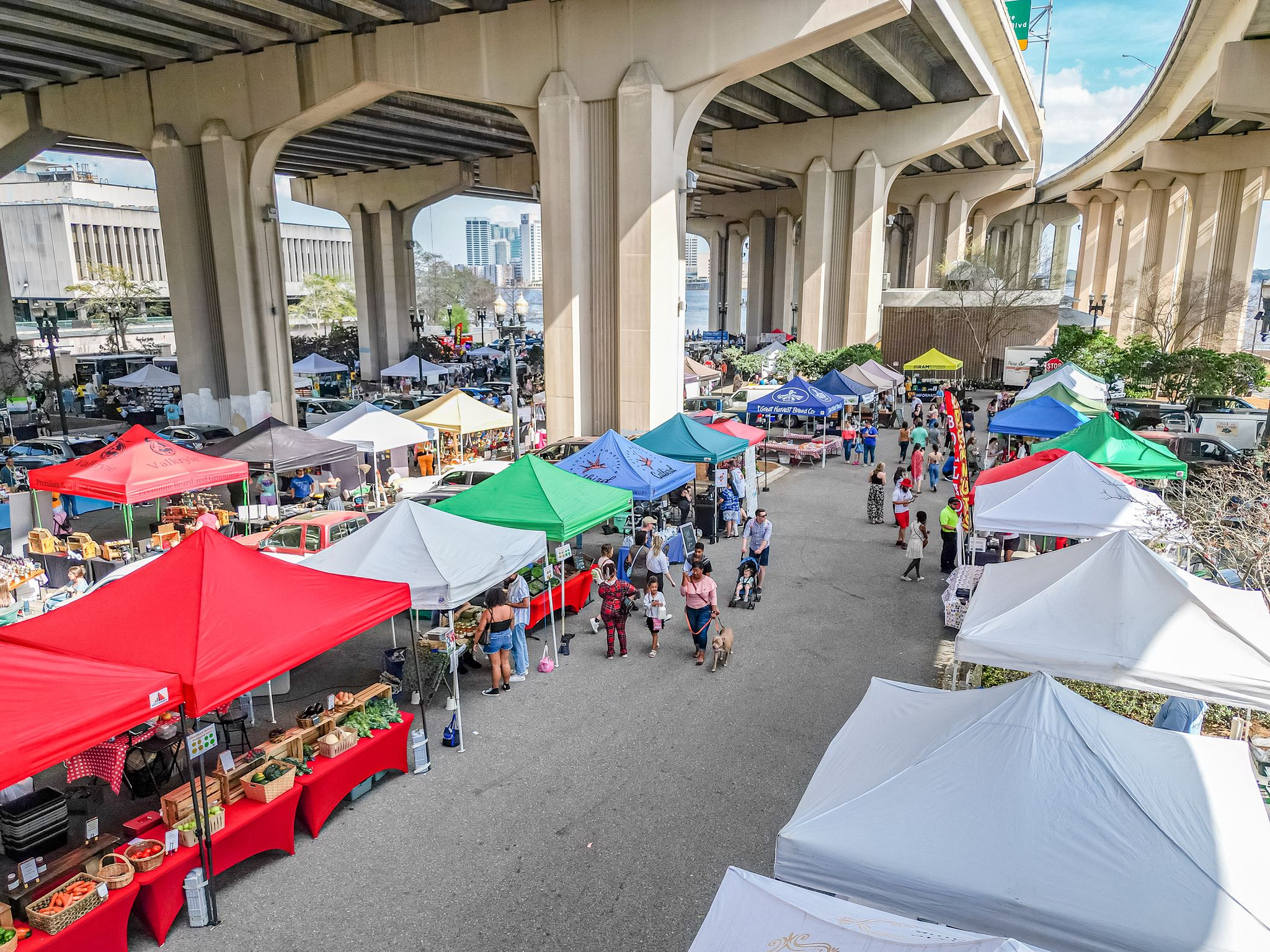 RAM operates every Saturday from 10 a.m.-3 p.m., rain or shine under the canopy of the Fuller Warren Bridge. Currently, we are booking over 100 makers, bakers and farmers each Saturday. You'll find award-winning artists and food trucks under the bridge.
Signature RAM events are now back and fully operational at the market.  Every First Saturday of the month you can enjoy a new local craft beer or brewery at the market for our First Saturday Brews! Other events include monthly themed days, Morning Yoga & more.
From the Riverwalk, you'll get the best views in Jacksonville. If you like taking photos of the cityscape, dolphins feeding on the river's mullet or capturing the beautiful colors of the sky at sunrise and sunset, this is the place.
SNAP Program
RAM accepts EBT cards and WIC Coupons for eligible food items. We also matched the purchase of tokens with an incentive of green tokens that can be used to purchase fruits and vegetables at the market.
In 2020 we helped 368 customers purchase $14,335.00 in incentives to buy healthy food!
Did you know?
The Florida Theatre opened in 1927 and is listed in the National Register of Historic Places. The theatre was home to one of Elvis Presley's first indoor concerts in 1956. A local judge sat through the performance to ensure Presley's body movements would not become too suggestive.
Courtesy of visitjacksonville.com
Florida Agriculture
In 2017, Florida ranked third among U.S. states, with agricultural exports topping $4 billion, according to the U.S. Census Bureau.
Canada led the world with purchasing $747 million dollars of Florida grown products.
Be the first to learn about RAM news and events!