About:
John, a US Navy veteran returned to Florida in 2015. While he was away he spent some of his time studying at Chapman University in San Diego and aboard the USS Ranger. His duty stations included Fighter Squadron Two, Naval Air Station Corpus Christi, Operation Deep Freeze and Naval Air Station Alameda. Shortly after returning from the South Pole he began his twenty three year non-profit career with the Pacific Coast Farmers' Market Association.
His passion for healthy communities, local businesses and the agricultural arts led to the creation of the largest Market Association in the country. John was instrumental in creating the first hospital based farmers' market in the San Francisco Bay Area with Kaiser Permanente. Kaiser now sponsors over fifty markets throughout the country and continues to educate communities about healthy eating.
Previous Experiences:
John's past volunteer service includes: President, California Federation of Certified Farmers' Markets, President, Pleasanton Downtown Association, Member, Brentwood Neighborhood Advisory Committee, Chaired State of California's Direct Marketing Task Force and Co-Chair State of California's Department of Agriculture's Technical Planning Committee.
John spends most of his free time dreaming and looking for new ways to turn that vision into reality. If there's any time left over you'll find him at the beach with his wife and Golden Retriever.
About RAM:
"For me, managing the Riverside Arts Market is yet another stop on my journey to help others in reaching their potential. We help a diverse group of the community and all of them have different obstacles that they encounter along their road to success. We want to address and remove those obstacles so the rising tide will continue to float all boats!"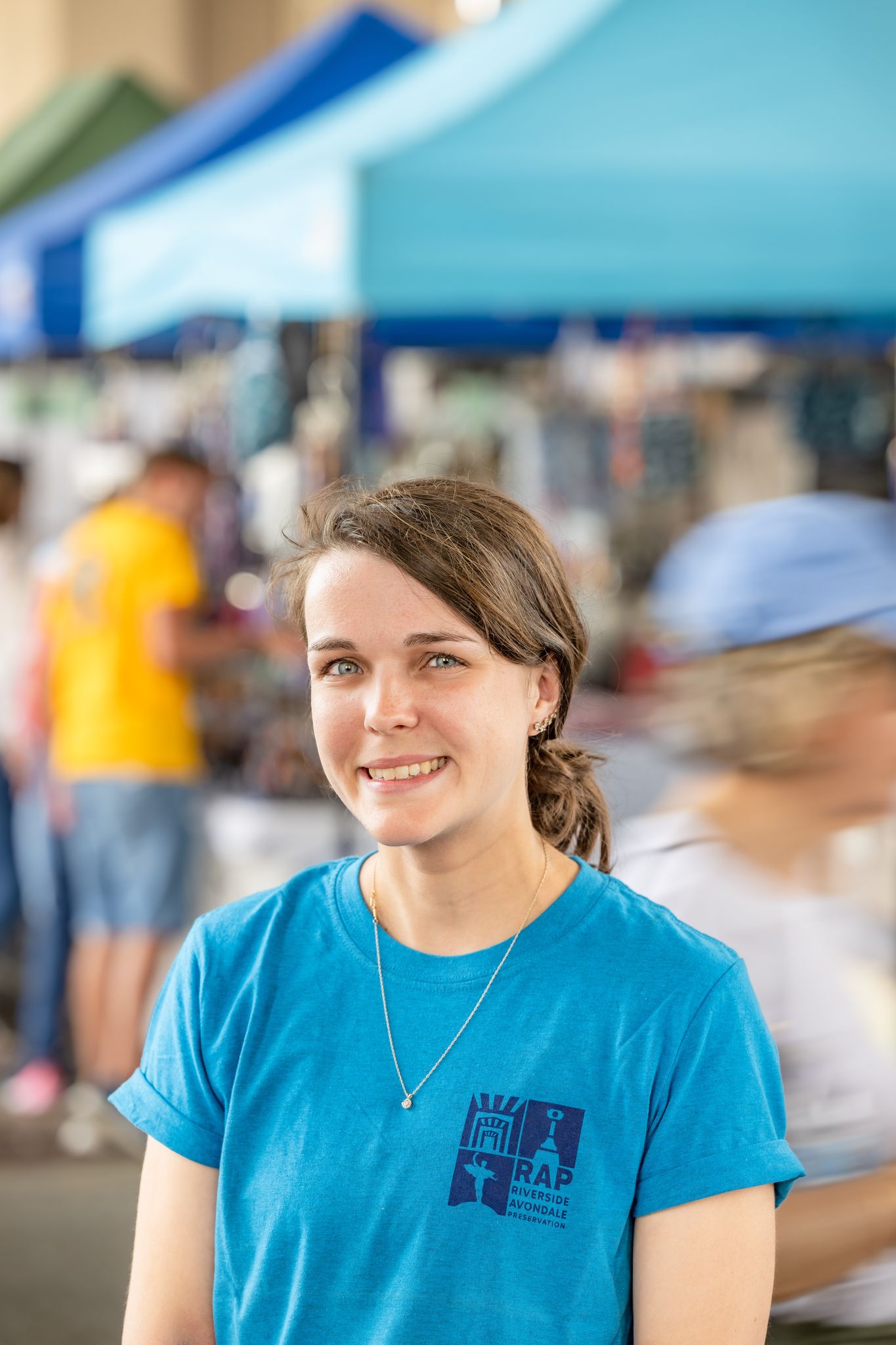 About:
Chloe is a lifelong Floridian who moved to Jacksonville after graduation from the University of Florida in 2016. She quickly planted roots in the urban core and is delighted to join the Riverside Arts Market (RAM) team. Weekly visits to RAM were one of the first ways she felt connected to the city, and she is excited to help future visitors to the Market build that strong connection to the neighborhood, and to Jacksonville as a whole.
Chloe can be found every Saturday at RAM and would love to meet you (and your dogs) at the information booth. Outside of work, she can be found spending time with her latest foster pet, hiking or biking through our local city & state parks, or watching a movie.
Previous Experiences:
As a nonprofit professional, Chloe has held a variety of past positions at local organizations, including the Jacksonville Zoo, Museum of Science & History (MOSH), and Hope Haven. She additionally has held volunteer roles with Renaissance Jax, the Duval County Envirothon, and is involved with local animal rescue organizations.
About RAM:
"I am so excited to be a part of the RAM team and begin working closely with not only our vendors, but also with our visitors. I truly believe that RAM can be a space where people come to learn and experience new things, and am looking forward to bringing my lens as an informal educator to the Market. There is no other place in Jacksonville combining art, food, music and culture in the way that we are doing here at RAM!"
About:
Marisa, a Jacksonville native and local artist, is the Digital Media Manager for Riverside Avondale Preservation (RAP) and Riverside Arts Market (RAM). As a marketing and communications professional, Marisa has worked in a variety of industries that has allowed her to grow in many aspects and bring more knowledge and depth to each role she has taken on. Her passion and knowledge for all things social media arose when she realized the positive and meaningful impact a good social media strategy can have for a brand. When she's not working, you can find Marisa daydreaming of new art ideas, working on her art commissions at home and spending time with her dogs and family.
Previous Experiences:
Marisa has worked for brands and companies like Rip Curl, Advanced Disposal, JAXUSA Partnership and operates her business, MSW Stained Glass.
About RAM:
"As someone who has always loved and admired the Riverside Avondale neighborhood, I am very happy and grateful to be a part of such a wonderful organization that works to preserve its historical features as well as promote the businesses, arts and culture that resides within the community. As a local artist, it has also been an amazing experience to dive deeper and be more integrated in the operational side of Riverside Arts Market. I love getting to know all the vendors and helping them grow to reach their goals."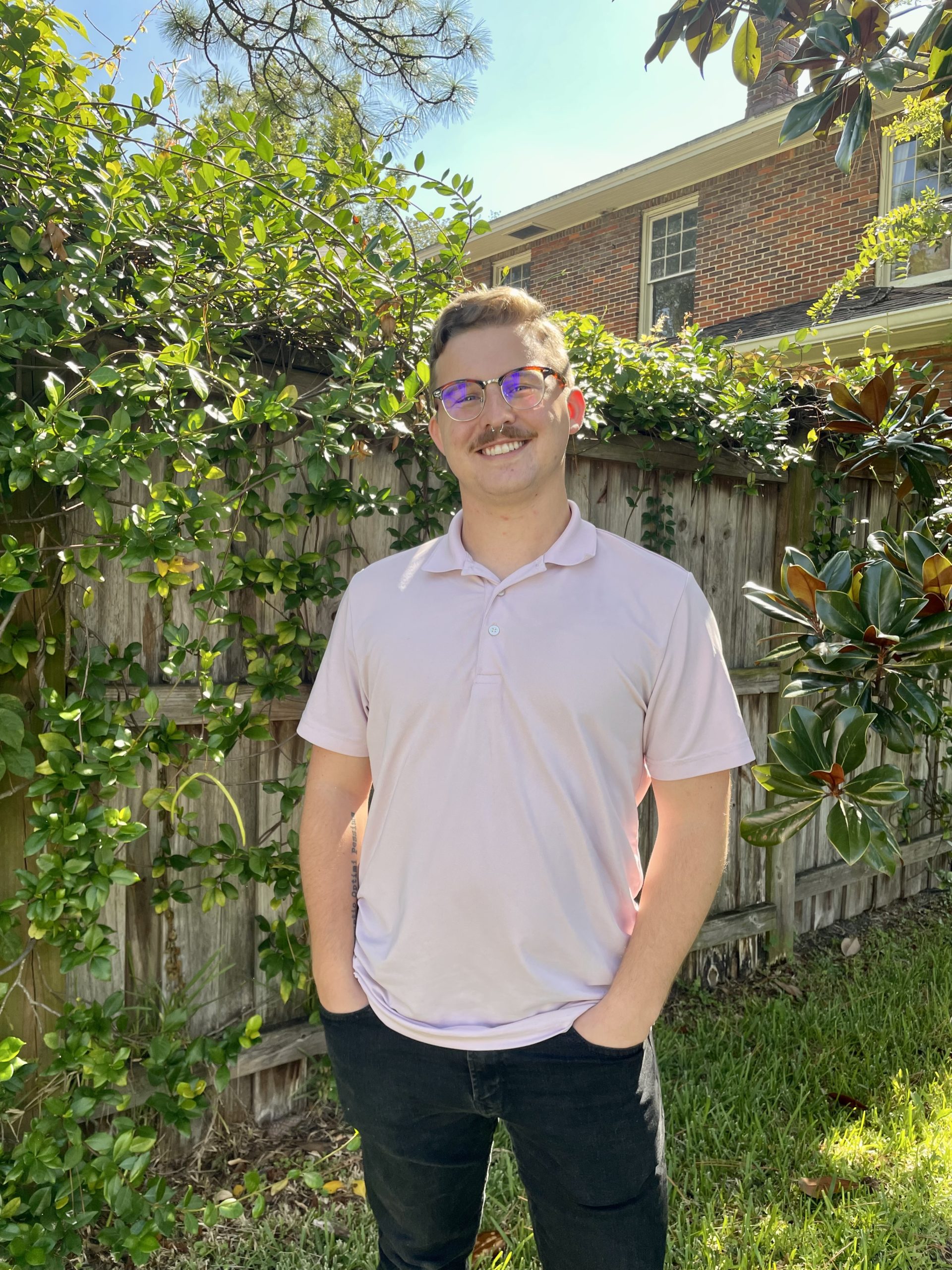 Previous Experiences:
Austin has led and developed multiple programs and operations in his capacity within the Navy Reserves, earning three Navy Achievement Medals in the process. He has extensive experience working with the public sector having worked in the Florida Senate, has participated in the Leadership Jacksonville "Next Generation 2023" program and the World Affairs Council "Council EDGE" mentorship program. He served on the Military and Veterans Affairs transition committee for Mayor Donna Deegan helping to advocate for better access to the city for service members stationed at our military installations.
About RAM:
"Watching RAM grow from a commodity to an asset has been incredible. What started as a monthly market with a few vendors has become a weekly resource for people to access fresh produce, arts, entertainment, and community. The Riverside Arts Market is an absolute gem along our riverfront and only continues to grow and get better with time!"
About:
Shannon is a community advocate and has focused her work on environmental protection and advocacy. She began her career with the Delaware Riverkeeper Network and was an Intern with the Florida Department of Environmental Protection.
She moved to Jacksonville in 2009 where she could walk to nearby markets, restaurants, and parks, so she made Riverside her home.
In May 2021, she transitioned from her role at the St. Johns Riverkeeper to Riverside Avondale Preservation as Executive Director.
Previous Experiences:
Shannon has had a long standing career in community advocacy and outreach. She served as the Outreach Director for the St. Johns River Keeper for nine years before joining Riverside Avondale Preservation.
In 2020, Shannon became Chair of Resilient Jax, a coalition of non-profit organizations, businesses, and individuals collaborating on resiliency solutions. Riverside Avondale Preservation is one of Resilient Jax's founding members.
Frank Widner and Roy Peak
Specialized Support at RAM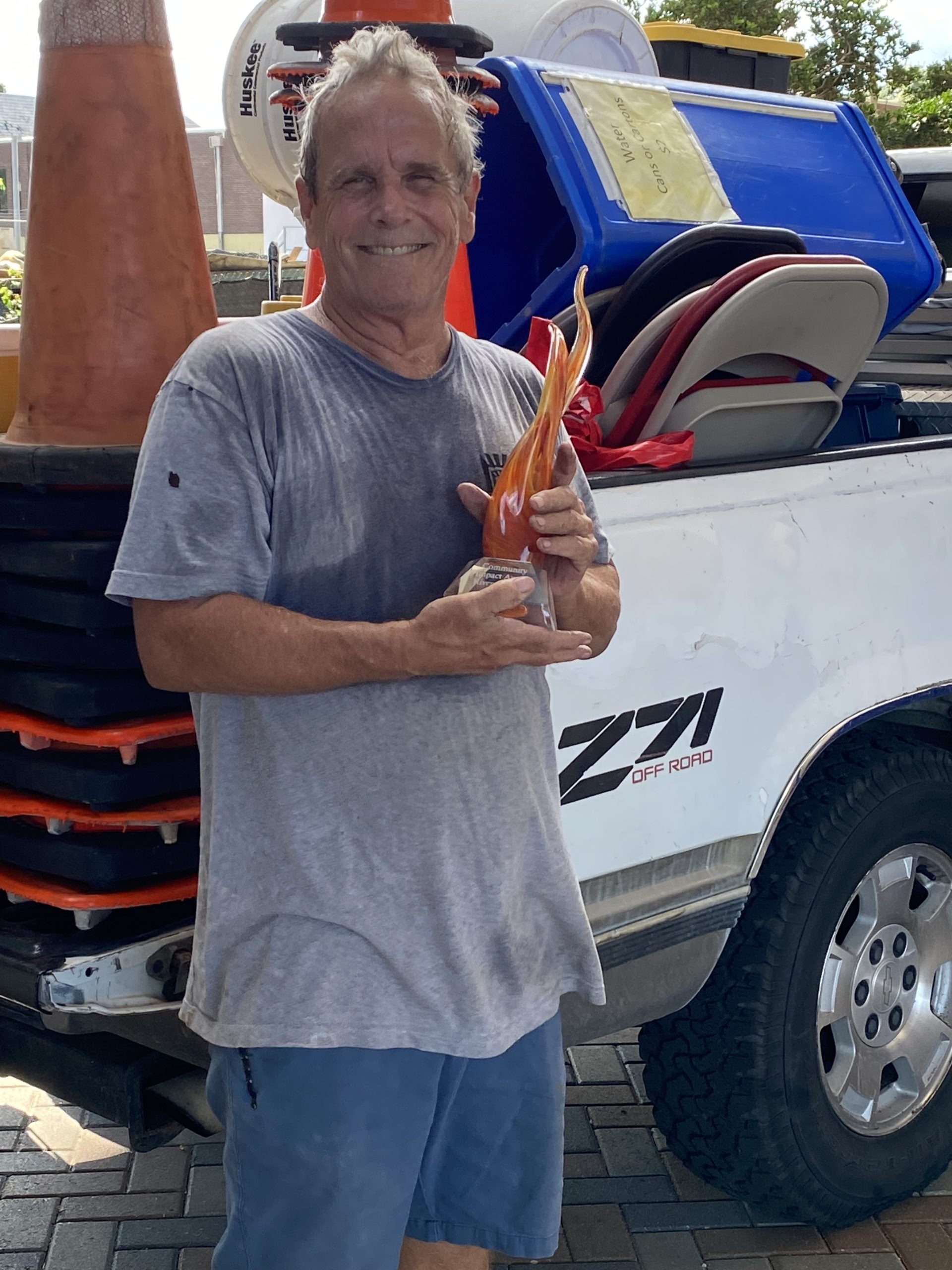 About:
Riverside Arts Market would not be what it is if not for these two extraordinary men! Frank (pictured left) and Roy (pictured right) have been providing support to RAM since the very beginning and are the backbone of our story. They show up every Saturday to help us put on the best market we can be. Frank helps us start the day by setting up and breaking down every Saturday. And Roy provides his master expertise when it comes to sound. The River Stage would not be a premier performance spot if not for his skillset.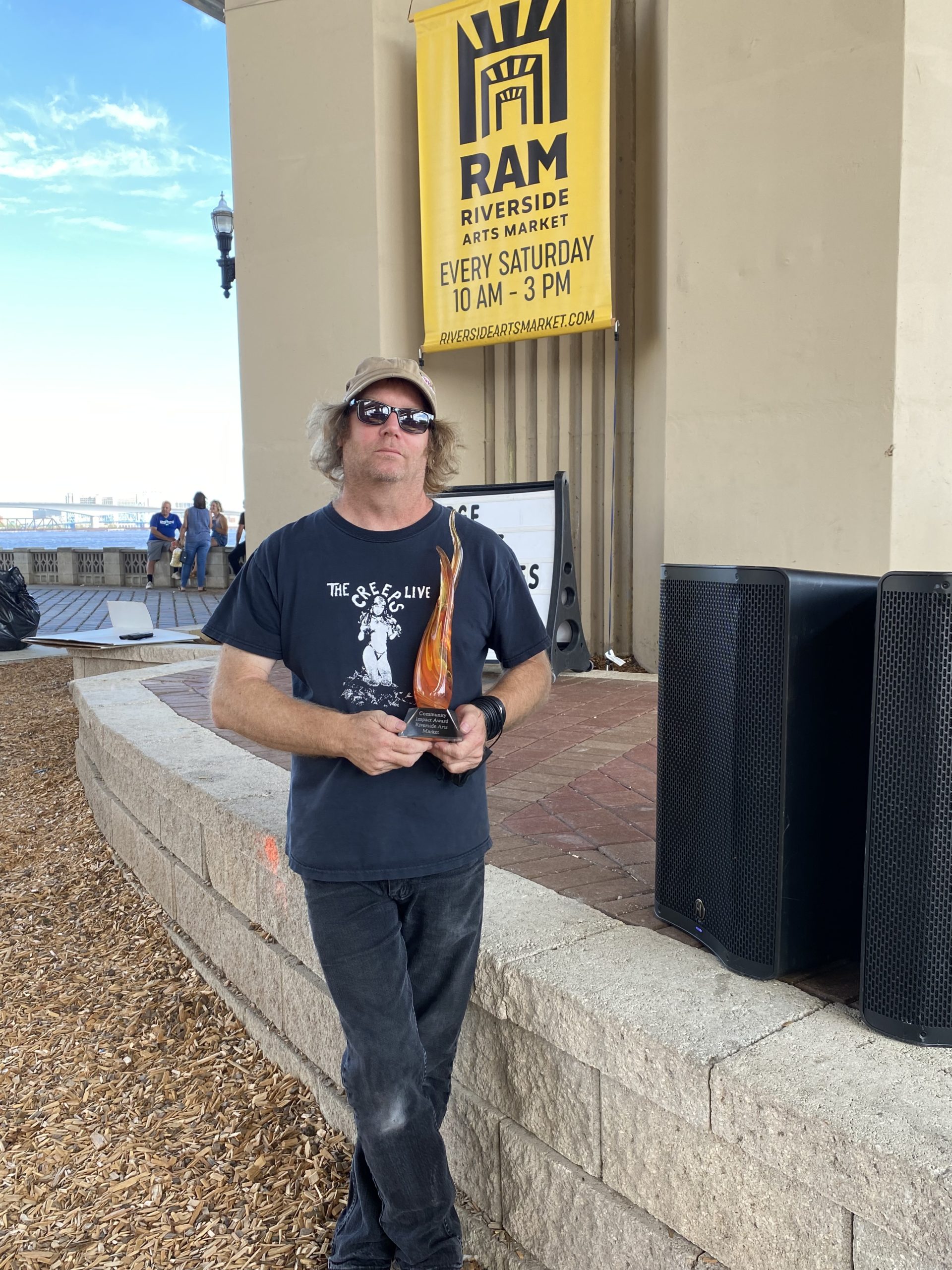 Be the first to know about RAM events!