Cooking Creations by Ali - Easy to make Recipes!
Roasted Tomato Medley
Serves Four
Scrumptious Tips
Shop at your nearby farmers market for fresh organic tomatoes. Considered a fruit, tomatoes come in many varieties including cherry, beefsteak and heirloom. Chiffonade the basil by rolling it up and thinly slicing through it so it looks like ribbons. It makes a beautiful and colorful presentation! You can either make your own balsamic reduction by simmering over medium heat until reduced, or you can purchase my favorite dark balsamic reduction from the Olive Oil Store.
Ingredients:
6 cloves garlic, peeled and minced
1/4 cup olive oil
1/4 tsp smoked sea salt
1/4 tsp cracked pepper medley blend (pink, red, black pepper mix)
2 packages yellow grape tomatoes
2 packages red grape tomatoes
3 sprigs fresh oregano, sprigs removed
1/8 cup dark balsamic vinegar reduction
1 package fresh basil, stems removed, chiffonade
Directions:
Preheat oven to 450 degrees F.

Line baking sheet with nonstick foil.

Toss all ingredients together, excluding basil.

Spread tomato mixture in single layer on baking sheet.

Place tomatoes and olive oil on nonstick foil onbaking sheet in single layer and roast at 450 degrees F for 24 minutes, then broil on high heat for one minute.

Remove from oven, drizzle with dark balsamic vinegar, and sprinkle with basil chiffonade.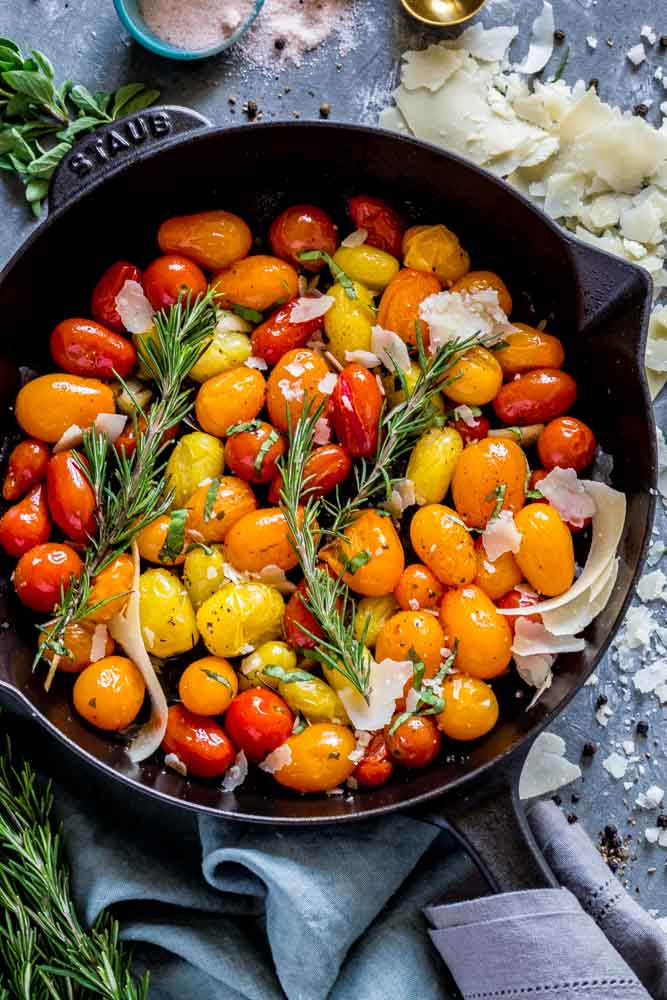 Ali Kaplon, a certified personal chef, wrote Seasonal Farmers Market Favorites to inspire others to explore their towns' local markets to find fresh, seasonal produce and other artisanal foods to incorporate into well-balanced diets.
For more delicious recipes, tips & tricks and more, visit Cooking Creations by Ali and buy her book - Seasonal Farmers Market Favorites! This book offers quick, simple and culturally diverse recipes and promises healthy, flavorful meals for every season of the year. Take meal planning and cooking to another level by using the best ingredients from your local farmers markets!