Cooking Creations by Ali - Easy to make Recipes!
Watermelon Gazpacho
Serves Four
Scrumptious Tips
Gazpacho is made of raw fruits and vegetables, pureed and served cold. There are many variations of gazpacho, making it a no-fail recipe. Feel free to fit your preferences and replace the peppers with your favorite pepper and the juices with your favorite juice to add a personal twist. The yogurt and mint add a refreshing and creamy touch!
Ingredients:
1 large watermelon, rind removed, rough chopped
1 seedless cucumber, peeled
1/2 jalapeño pepper, seeds and pith removed
1/2 habanero pepper, seeds and pith removed
1 red pepper, seeds and pith removed, rough chopped
3 cloves garlic
1 red onion, skin removed, rough chopped
1 bunch parsley, rinsed, stems removed 
2 limes, juiced
1 naval orange, juiced
1 small container 2% FAGE Greek yogurt
1 bunch mint, rolled, thinly sliced
Directions:
In blender, puree all ingredients, excluding mint and yogurt, until smooth.

Pour into bowls and top with dollop of yogurt and sprinkle of mint.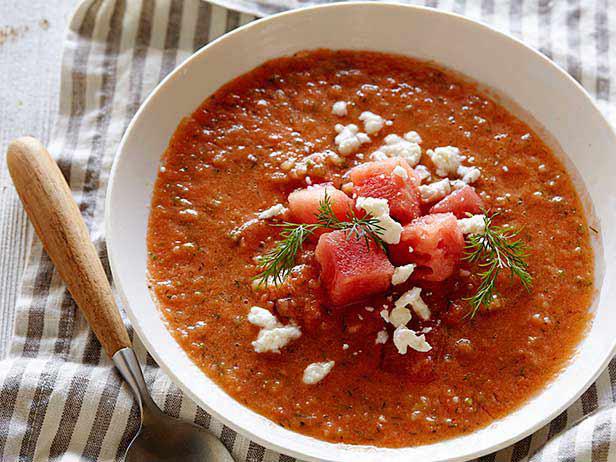 Ali Kaplon, a certified personal chef, wrote Seasonal Farmers Market Favorites to inspire others to explore their towns' local markets to find fresh, seasonal produce and other artisanal foods to incorporate into well-balanced diets.
For more delicious recipes, tips & tricks and more, visit Cooking Creations by Ali and buy her book - Seasonal Farmers Market Favorites! This book offers quick, simple and culturally diverse recipes and promises healthy, flavorful meals for every season of the year. Take meal planning and cooking to another level by using the best ingredients from your local farmers markets!